2016 BMW X4 Driving Impressions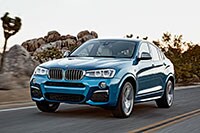 We found the dynamics of the X4 xDrive35i to be much like that of the X3 SUV, even though the X4 is 1.5 inches lower. The X4 is maybe a bit sharper; like the X3, it's athletic and agile for its size, without much nose dive or excessive body motion. Not surprising, given we would not expect much nose dive or excessive body motion in any BMW.
In Sport mode, with quicker throttle and steering and a tighter suspension, it feels best. The standard variable-ratio sport steering feels relaxed and stable, better than the steering in the X3. The X4 has Performance Control, which uses the electronic stability control to dab the brakes on the inside front wheel to improve cornering.
We highly recommend opting for the adaptive dampers.