2016 BMW 2 Series Walk Around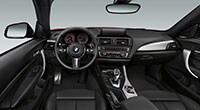 The BMW 2 Series looks sleek and well proportioned, leaving its lovable boxy 2002 shape behind. It looks relaxed, with graceful curves, artful angles, and tidy vents. A long hood climbs to an arched roof and back down to a short tail, tracing classic sport coupe lines and copying the shape of the showy 4 Series.
Interior
The cabin is designed for the driver. Unlike bigger BMWs and their long horizontal shelves, the 2 Series gauges and controls are all handy. Many trims are available, but we like simple base; it's still BMW quality, it's all we need. Base trim is understated, consistent with the theme of keeping focus back on the driving.
It's surprisingly spacious inside, with lots of room in all directions for the driver, broad adjustability of the seat and steering wheel. The rear seat is not quite comfortable for every size, but an Easy Entry function improves its accessibility. The Convertible with its narrower back seat needs it. The top lowers or raises in 20 seconds, at up to 30 mph if you're stuck in a freeway traffic jam and it starts raining.
The trunk volume is 13.8 cubic feet, about average for a compact coupe. The split rear seat folds to open up the trunk to the cabin, however; and there's a pass-through hole for things like skis.